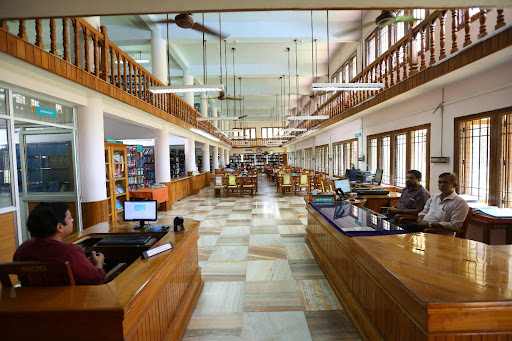 The library is the heart of an educational institution. The library is regarded as a storehouse of knowledge and a living pool of culture. Its main objective is to provide the right information to the right user at the right time.
MACE Central Library is a spacious and well-designed three-storied building having a carpet area of 839.5 sq m. with a good collection of books, periodicals, and journals. The library plays an essential role in providing facilities for general reading. It disseminates information according to the requirements of the users of MACE. The library is fully automated, with more than 78000 volumes of textbooks and reference books in over 25641 titles. The library subscription to 51 international journals and 70 national journals . Bound volumes of the back issues of the leading journals and magazines are also available.
An open-source integrated library system (KOHA) is used for library management functions. Online Public Access Catalogue (OPAC) can be accessed within the campus as well as outside. DSpace digital library helps the library users access the library's digital archives anywhere. Central Library subscribes to valuable foreign journals in the field of Engineering. An e-Library platform (Knimbus) is provided to access digital library facilities (E-Journals and E-books) by sitting anywhere in the world. In addition, under the central library, we have department libraries in each department that collectively support the teaching and research programmes of the institute.
Email – library@mace.ac.in
Library Timing
WEEK DAYS
TIME
8.30 am to 6.00 pm
SATURDAYS
TIME
9.15 am to 3.15 pm